Suffering from mental health issues? No problem, we offer you an easy way out that you might not have hard of! Find out How Horses Boost Our Mental Health?
The beauty and elegance of horses are immeasurable, but these majestic creatures have a lot more to offer than just being aesthetically pleasing to the eyes.
While many horse lovers would agree to feel more joyful and content after spending time with horses, what is it about horses that makes them so good for therapy? As a renowned Australian poet so precisely said "Horses lend us wings we don't have".
Caring for a horse can provide you with more than good company and unconditional love. Who can tell us the health benefits of horse riding better than the father of medicine himself, Hippocrates?
Written evidence has been found, dating back to 400 A.D, when he associated well-being with horseback riding.
For this reason, horses are used in Formal treatments, in combination with traditional psychotherapy. These treatment programs are called Equine-Assisted Activities and Therapies (EAAT).
It is predicted that horses will play a vital role in mental rehabilitation, replacing dogs which are more commonly used in assisted therapy. This is because they are naturally more aware of their surroundings and therefore more responsive to people's emotional states due to the fact that they are prey animals.
Equine-Assisted Therapy
In Equine-Assisted Therapy, along with traditional methods of therapy, horses are used to regulate the emotions or behavioral problems of the patients. These types of therapy cannot be run by any trainee or horse club. Instead, it is always supervised by a licensed psychotherapist or physical therapist.
Furthermore, EAP brings people out of the office setting into an open environment where they are faced with challenges that require them to use all their senses.
This is increasing in popularity as it's proving to be effective. Since the average weight of a full-grown horse ranges from 900 to 2000 pounds, it poses a real challenge for some to be around them, hence, instilling in them a sense of self-confidence which is the first step towards healing.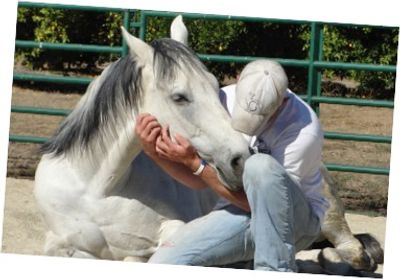 Why horses?
Horses can be used for individual sessions as well as group therapies and they are proving to be successful with all age groups, bringing their unique characteristics to the animal-assisted therapies that make them the perfect choice.
How Horses Boost Our Mental Health: Emotional Awareness
Horses are highly sensitive to emotions since they are herd and prey animals. This quality is vital for their survival. They respond similarly to feeling states as humans. For example, if approached angerly, they will resort to shying away or stubbornness. This provides the client with an emotional mirror that enables them to check-in and reevaluate their behavior according to the feedback they are receiving. More often than not, help us accept the emotions that we have so long been denying.
How Horses Boost Our Mental Health: Acceptance and Honesty
Horses are social animals, having their own personalities. They are highly sensitive to the behavior around them and will react to them without any biases. As humans, we are judgmental and carry our prejudices, even though therapy sessions are ought to provide safe spaces for individuals to open up, it is still an intimating task.
How Horses Boost Our Mental Health: Focus and control
A lot of time, effort, and energy go into looking after a horse. Horses require to be groomed, watered, fed and exercised. This in itself can prove to be therapeutic to a lot of people. Other than that, this is a lot of work that requires a person to be systematic and build a routine. This then translates into life outside the barn where the person realizes that in order to have long-lasting fruitful relationships one must invest their energies and take control of their actions.
Equine-assisted therapy can be used to treat a wide range of issues including, depression, PTSD, ADHD, anxiety, relationship, and behavioral problems. In addition, it has also been used to manage addiction. Therapeutic activities practices involved vary with the problem that is to be dealt with. Hence, there are many types of EATs but the most common among them are Hippotherapy and Equine-assisted psychotherapy.
How Horses Boost Our Mental Health: Hippotherapy
As mentioned before horseback riding was associated with having health benefits from the time of Hippocrates. When one rides a horse, they have to keep themselves and the horse under their control. This helps stimulate both the mind and the body simultaneously. In hippotherapy, this phenomenon is used to sharpen the motor and sensory skills and therefore treat issues related to cerebral palsy, multiple sclerosis, and stroke. Furthermore, horse movement has been made us of in occupational, physical, and speech therapy.
How Horses Boost Our Mental Health: Equine-Assisted Psychotherapy
Most experts agree that 70 to 93 percent of all our communication is non-verbal. Horses are known to be highly attuned to their environment, this makes them the perfect fit for psychotherapy. Patients are normally required to do an activity that might stir up bottled emotions, the horse with pick up on that and react accordingly. The professional present will then help the individual understand the horse's reaction and in doing so will also help them acknowledge their own feelings. This form of psychotherapy shows positive results for those recovering from communication issues, substance abuse, trauma, depression, or a number of other psychological issues.
Health is a holistic concept, there are a lot of factors that contribute to the overall well-being of an individual. There are a few things that you should consider if you are planning to seek equine-assisted therapies. First and foremost, if you have any back-related issues like Scoliosis or Spina Bifida, talk with your doctor first. Despite the fact that this form of therapy has shown promising results, some people might have had traumatizing experiences with animals in the past and might not be comfortable around them. It is advised to always discuss your case with a mental health professional to determine if this form of therapy is the best fit for you.